This tour was initiated to spend some time with my younger daughter, Caitria, who at the time was just 15 years of age; she wanted to go to see Rushmore and I wanted to do another father-daughter ride. This tour would include WA, OR, ID, MT, WY, and SD locations, visiting multiple state and national parks including and not limited to Yellowstone, and Mt. Rushmore. The two greatest highlights of this tour were both the result of Clint either randomly deciding to take a new route or the incessant bantering (it is both a pleasure and curse to have linked headsets in our helmets.) in my ear which helped my already grumpy spirit make a decision.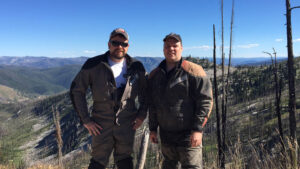 The ride started out typical enough, I and Caitria arrived at Clint's place on time but he wasn't ready to go. Once we got underway we headed out toward the ID/OR border where we stayed the first night to ease the kids into the longer riding days. After dinner, Clint was looking at a local road map that displayed a road that was a highlighted route parallel to our planned LoLo Pass route. Of course, we decided to change routes for the next day, which is so often what makes a ride memorable but it was still a bit worrisom to say the least once we learned that the road may be closed at the far end.
The day started out just fine but quickly become stressful the second time we were somewhat misplaced but we prevailed and, as is so often the result, it turned out that riding the Magruder Corridor forest service road from Idaho over the Bitterroot mountains to Darby MT would be one of the greatest highlights of our tripp; certainly the most memorable for the kids – all of us. Sometimes I hear riders, typically at the bigger rallies, talking about riding the corridor saying things like, man the Magruder was tough, or other similar statements – I chuckle to myself while recalling that Clint and I did that route riding two up with our 15-year-old children and requisite supplies.
After a night in a strange motel in Darby, we headed east again stopping at a campground in West Yellowstone which we used as a basecamp for a couple of days of riding into the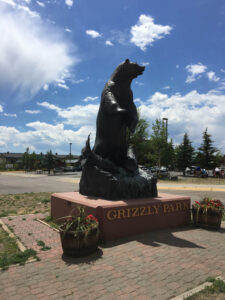 park and doing things like laundry, relaxing by the first, and resupplying. The first night we were there, another motorcyclist rolled into the campground and asked if he could crash in our site because everything was full; of course, we said yes but isn't it strange and the individual wasn't particularly sociable either. The next day, we packed up camp and left before the vagabond was even awake.
Another day in the park then easterly we went but for some reason, I was quite grumpy that day; I'm not entirely certain but I think we were behind plan and I really needed to make it to Rushmore since that was our original intended destination prior to looping back home. At any rate, I got gruff with Clint and Caitria so it wasn't a very fun afternoon of riding as we were leaving the park. We were encountering some thunderstorms near Cody WY so we opted to stop despite my wanting to continue; but since I was being a jerk, Caitria and I stayed in a different location than Clint and Chase. Caitria and I stayed in the famous haunted Irma hotel, built and run by Wild Bill Cody while the others stayed down the street.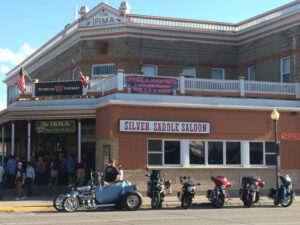 Cell service was terrible and I was too darn lazy to ride down to where I knew where Clint was staying so we didn't eat dinner together. We parked our bike right on the edge of a curb so that it would be easy to leave in the morning; when we came back after doing laundry we noticed it started a trend and another 5 motorcycles had synched up close to us. Looking back on this day, I was a miserable person and it caused unnecessary strife but it did facilitate this neat experience in Cody WY for my daughter. After a late lunch, Caitria and I got to witness a gunfight and a bank robbery followed by various other old-west-themed events then we retired for the evening. The next day, I wasn't so miserable for the ride to Crazy Horse and Rushmore.